Editing, Design & Paint

DeckLink HD Extreme 3D: $945.00
The new DeckLink HD Extreme 3D features single and dual channel SDI capture and playback for both regular 2D and new 3D stereoscopic workflows! Includes dual link 3 Gb/s SDI, HDMI and analog component/composite/s-video connections.
DeckLink SDI: $280.00
SD/HD SDI
DeckLinkDuo: $470.00
Duo SD/HD SDI
DeckLinkOptical Fiber: $470.00
Optical Fiber SD/HD SDI
DeckLink Studio 2: $660.00
SD/HD SDI, Component, Composite, S-Video
Intensity Pro: $189.00
HDMI & Analog Editing Card
Intensity Shuttle: $189.00
HDMI & Analog Editing USB3.0
Multibridge Pro2: $1,515.00
Multibridge Eclipse: $2,275.00
Multibridge is the world's first external PCI Express capture and playback solution that instantly switches between SD, HD and 2K, in 4:2:2 or 4:4:4 video quality.

Color Correction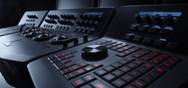 DaVinci Resolve software: $945.00
DaVinci Resolve Control Surface: $29,995.00
DaVinci Resolve is the world's greatest color correction now for Mac OS X and Linux!

Routing and Distribution



Smart Control: $470.00
Micro Videohub:$1,895.00
Smart Videohub: $2,370.00
Studio Videohub: $2,845.00
Broadcast Videohub:$14,245.00
Enterprise Videohub: $28,495.00
Now you can eliminate complicated manual video patching forever! Videohub lets you connect all the equipment in your facility and easily change connections right from your computer's desktop! Videohub is a powerful broadcast grade routing switcher that features up to a massive 144 inputs, 288 outputs, 144 deck control ports, and auto switching SD, HD, and 3 Gb/s SDI, all in a compact rack mount chassis only a few inches thick.

Monitoring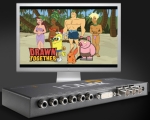 HDLink Pro DVI-Digital $470.00
HDLink Pro 3D DisplayPort: $470.00
HDLink Optical Fiber:$755.00
Eliminate the high cost of HDTV monitoring with HDLink - the world's most advanced full HDTV resolution monitoring converter for DVI and HDMI monitors. Includes the quality of 4:4:4 SDI video, lookup tables via USB and analog audio outputs. HDLink will solve all your monitoring needs from only $495
Video Record: H.264 Encoding




Video Recorder: $142.00
H.264 Pro Recorder: $332.00
Capture video direct to H.264 video files for your iPod, iPhone, Apple TV, YouTube and even full resolution video backups!
Test Equipment



Blackmagic Ultrascope: $660.00
Pocket Ultrascope: $565.00
The world's first 3 Gb/s SDI and optical fiber SDI scopes designed for editors and colorists, with the technical accuracy broadcast engineers will love for only $695!
Converters


Broadcast Converter: $945.00
Analog to SDI: $470.00
SDI to Analog: $470.00
HDMI to SDI: $470.00
SDI to HDMI: $470.00
Audio to SDI: $470.00
SDI to Audio: $470.00
Optical Fiber: $470.00
Sync Generator: $280.00
UpDownCross : $470.00
OpenGear Converter (Any Form) : $470.00
Broadcast quality rack mount converters. Choose from analog, HDMI, audio, optical fiber, and sync generator models!